I am working on one of my biggest projects, and emotionally difficult, since being pregnant… a garage sale! a HUGE garage sale. This Saturday at my house… We've lived here for 3 years now, our longest anywhere in 12 years of marriage. When we first moved here it was only for a year, and it's become much much longer. In fact we expect to be here in my in laws basement for a few more years! So we decided that paying for storage for that long is silly. Time to purge!!!
I'm getting rid of:
baby boy clothes 0-9 months (since Baby Boy is already wearing 12 months),
girl clothes newborn up to size 4/XS,
my maternity clothes as well as everything size 8 and less (lets face it, if I ever get down to a size 8 again I'm rewarding myself with new clothes)…
And BIG stuff:
Our extra dining room table and chairs,
extra couches and living room chairs,
the crib and changing table,
a daybed and futon
my glider
old windows, picture frames (lots and lots and LOTS of picture frames) and candles,
the worlds LARGEST pig collection (no room for stuff like collections),
also some fancy collectors dolls (mom why was I given these?),
crystal things that no one ever uses (wedding gifts),
a double chariot cougar stroller with bike and hiking attachment
two HUGE ikea wardrobes with shelves and drawers
vacuum, week whacker, rake and other misc stuff
extra bedding, pillows, heated pet bed
books, books, books, books and more books
fabric, other craft items,
my Silhouette SD with new mats,
and some of my extra cake decorating stuff
So if you live in SLC and are trying to furnish a house we're finally downsizing the stuff we've been holding on to! email me at imtopsyturvy at aol.com and I'll send you our address.
Also I shared the Cinco de Mayo cake I made for Breathing Space last week!
Now onto the features!!! It gets harder every week to narrow down the amazing projects into features!
check out this GORGEOUS and totally fun first birthday party! I only have 5 months left to plan Baby Boy's and I'm loving the mustaches!
check out these totally fun Disney shirts for an upcoming family trip to disneyland! I want one!
I knew you could use freezer paper for a iron on stencil to use with painting… but to using freezer paper to transfer ink???? BRILLIANT! I love it and am totally going to try it out.
my camera lens cap hasn't been lost yet, but that's not from a lack of trying to lose it!!! I totally need to make myself a lens cap pouch, and this tutorial is GREAT!
I love origami, back when we lived in Japan I got pretty darn good at it too, and loved the spheres you using multiple folded creations. So it's no surprise that I love these colorful paper spheres!
I love how sweet and simple these teacher appreciation gifts are! AND I love the cups and colors. Free Printables too! It doesn't get much easier or better than this!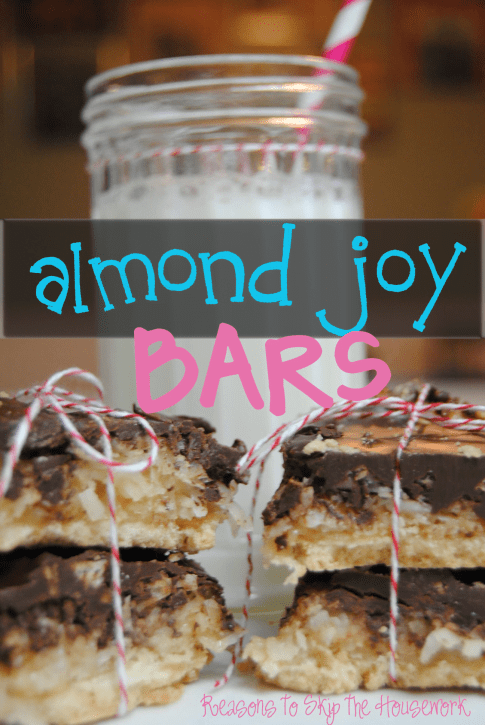 And the treat of the week are these almond joy bars! I LOVE almond joys! (and Mounds too!)
Don't forget to take a button if you were featured
Grab a button for you blog somewhere (or adding a text link is just fine!).
Let's see what you've got!