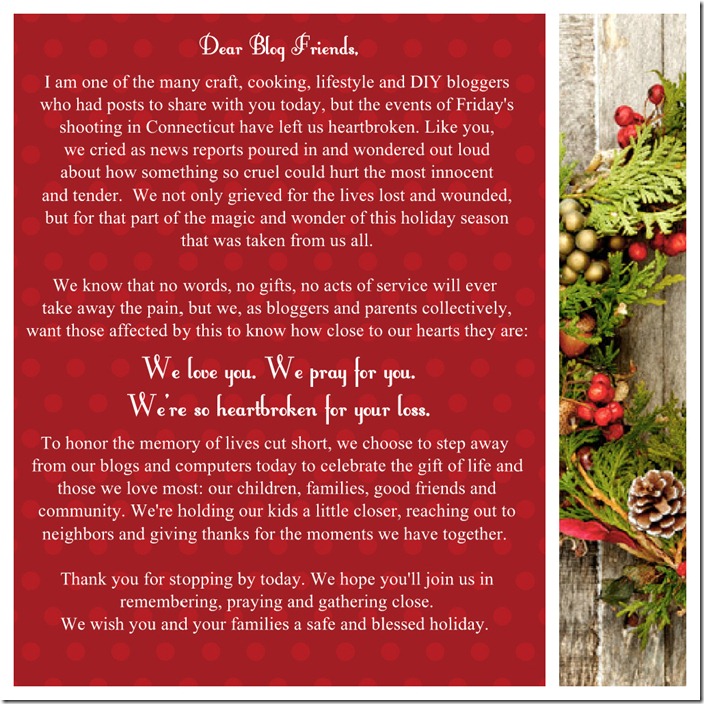 If you would like to donate to help the families, United Way of Western Connecticut has information.
Guess what I woke up to???? This AWESOME post about my cakes and shop over at Today's Creative blog! I got to meet Kim in real life last summer and can I just say she's so much fun! I'm still a pretty small blogger, and each time I meet a "big" blogger I have to admit I'm always nervous. Some of the traditional Mommy bloggers have been disappointing, but not the "big" craft blogger! They are always amazing. Kim is so kind and REAL! It was so much fun meeting her! I can't wait to catch up again at Creative Estates in April!
Since this blog is new and most of my followers/readers are new you probably don't know that my 3 oldest children were diagnosed with Aspergers (high functioning Autism) this past June. It happened the same week as my husband lost his Job, along with the last week of school, my oldest turning 8, and Family coming into town for her Baptism (we baptize kids when they are 8). Let's just say it was a crazy week. We had our suspicions when it came to our second child, my oldest son. But finding out that both my older daughter and younger son had it to? Life changing. Then a month ago my husband was diagnosed too, and my youngest, the three year old, is just starting all the behavior that the others did at three so I suspect she has it as well. Which means if we have any more kids (I'd love to, but the whole living with the in law's, no job thing.. well not right now) they'll have it too.


(my family)
Anyway… It's been quite the year for us. My oldest is old enough that she noticed she was "different" from the other kids. And apparently the "mean girl" syndrome is starting younger than I remember because she started to get bullied. Some of the girls in her class even threw rocks at her during recess. It was SO hard as a mother to see what she was going through. Thankfully we were able to find an AMAZING charter school here in UT for children on he autistic spectrum. I called them in January to put my kids in the lottery for school next year. When I mentioned the issues we were having with my daughter they amazingly found room for her THIS YEAR! It's been the greatest blessing I could hope for. AND my boys both got in for next year as well. I am so grateful to have found such an amazing support group.
Right now our school is building a High school so we can continue to educate our kids in this amazing setting. Because it's a charter school it's public and for us that means free. We could never afford to put all our kids into a private school for autism. They keep the classrooms small, have double the teachers and in addition have full time therapist in many different focus and aspects. All of this costs money. So we're working on lots and lots of fundraising. This last month was Autism awareness month but because I was a bit busy with the new blog/website/party and pancake breakfast at the school I let it pass by without doing anything for it! I'm hopping to add some products at my store that I've created to help my own kids soon, but I'm still in the process of working on it! Anyway I'll be using part of what I earn and donating it to our school. I'll keep you posted!
This same year I've actually had 4 friends who have also received the diagnosis of Autism or Asperger's for their children as well. I'm glad that we're getting awareness out there so that parents with suspicions go out and get their kids diagnosed. Early intervention can really help in so many ways.
SOOO the point of this post… My old college roommate is one of those mothers who has received this diagnosis. Her daughter is in the middle of the spectrum and there for has more difficulties than any of my children at the moment. Unfortunately for her they don't live in a major city with lots of help like we do, but she has come up with something that she hopes will help her daughter and their family. She asked if those of us friends with blogs would pass this on and being something close to my own heart I'm happy to. I know we all have our own issues, platforms and donation we make but sometimes just getting our stories out there can help us receive the support we need!
I am the mother of a beautiful girl who has autism.
Let me tell you a little bit about Jacey. She is two and a half years old, turning three in June. She was diagnosed with Autism on February 2nd, 2010. That is a day that will forever be with me. The diagnosis was devastating, yet relieving; it was overwhelming, it was surreal. You see, at about the age of two, we knew Jacey was delayed. We began speech and physical therapy in hopes of getting her back up to age level. Six months passed and she still was not speaking and her meltdowns were just as bad as before. We finally decided that we would have her tested by the North Central Evaluation and Consultation Team for Autism. I hoped that it would be ruled out and that there would be another explanation for her delays. When the team came back in and told us that it was Autism, that Jacey was right in the middle of the spectrum, I was shocked. I think time froze after that. The following days were a blur. I came up with reasons why the diagnosis couldn't be possible, but eventually gave in to reality.
Since that time, I have learned a great deal. One of the greatest things that I have found in my searching of treatments and therapies is Autism Service Dogs. Currently, we cannot let Jacey go for even a second because she will run from us. A service dog would allow Jacey the ability to have more freedom when we are in public by having Jacey tethered to the dog and being able to walk with the dog. A service dog would also be able to track and retrieve Jacey if she were to get away from us, comfort her when she is upset or having a meltdown, and keep her from dangerous activities and bad behaviors. It would give me another set of eyes to keep Jacey safe. Jacey loves animals and bonds with them so well. I would love for her to have an Autism Service Dog that could give her the love and comfort that she doesn't seek from us as much as from animals.
This is where you come in! Jacey has been accepted to receive a service dog but we must meet our fundraising goal of $13,000. I know that I can't achieve this goal on my own and this is where I need you. Help me help Jacey. You can fill out a Fundraising Donation Form that I have attached and mail it with your donation to 4 Paws for Ability, or you can go to their website at www.4pawsforability.org/donation.html where there are directions to donating online. Be sure to include Jacey's name in the notes so that it goes towards our goal. Thanks for helping us make an Autism Service Dog a reality!
Sincerely,
Amy & Jacey Brooks
www.4PawsForJacey.blogspot.com